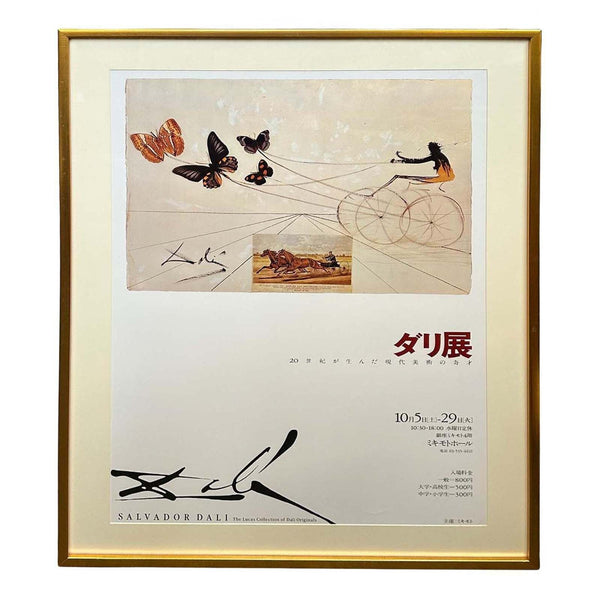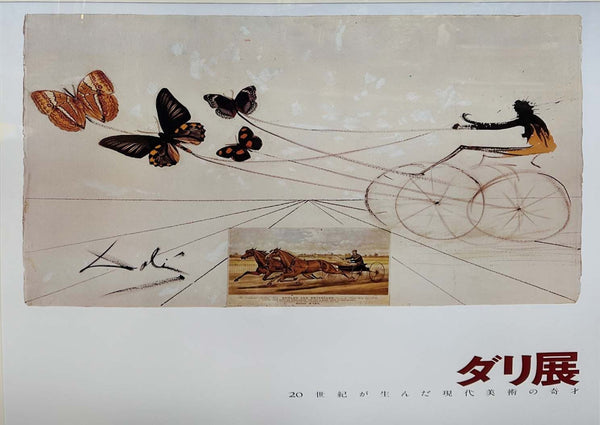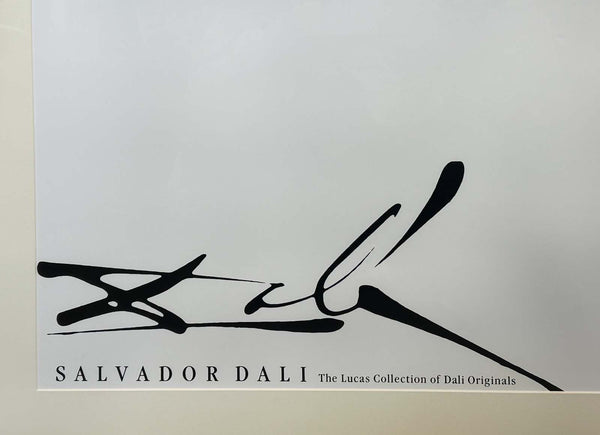 This captivating lithograph poster is an artwork for the 1974 Tokyo exhibition, titled "American Trotting Horses, No. 1," created by renowned artist Salvador Dali. The image is part of the Currier and Ives Suite, a collection of six lithographs published by Phyllis Lucas in 1971. 
The poster features Dali's interpretation of John Murphy, a celebrated harness jockey, driving the famous pair of champion racers Edward and Swiveller at the Gentleman's Driving Park in Morrisania, NY, in 1882. Dali's distinctive artistic style infuses the scene with a surreal and dreamlike quality, capturing the essence of the dynamic sport of trotting horses.
A facsimile of the original Currier and Ives image is prominently displayed in the lower section of the poster, paying homage to the iconic historical artwork. This juxtaposition of Dali's interpretation with the traditional Currier and Ives print creates a visually intriguing and thought-provoking composition.
The lithograph poster was specifically created to advertise the unique and exclusive Japanese exhibition of the Lucas collection of original Salvador Dali paintings. This poster showcases Dali's mastery and offers viewers a glimpse into the imaginative world of one of the greatest surrealists of the 20th century. It has been newly framed and matted, and even includes UV protection glass.
With its provenance from the Phyllis Lucas Gallery in NYC, this lithograph poster carries the legacy of renowned art curation and is a treasured piece for collectors and enthusiasts alike. It not only serves as an advertisement for the exhibition but also stands as an artwork in its own right, capturing the essence of Salvador Dali's visionary talent and paying homage to the rich history of equestrian sports.
Dimensions:
47.25"H x 35.5"w x 1.25"D